Are Mulch Volcanoes Threatening The Trees in Your Neighborhood?
We've developed an emergency alert system to determine how much damage is being done to your trees.
Are mulch volcanoes threatening the trees in your neighborhood? How much are they impacting the health of your trees? Did you know they might even be killing your trees? Unfortunately, it is often difficult to tell precisely how damaging mulch volcanoes are to your trees before they are removed. However, the size of the mulch volcano can hint at the severity of the problem.
Based on an actual emergency alert system used for volcanic eruptions, we've created our own system to show the different levels of impact mulch volcanoes have on trees.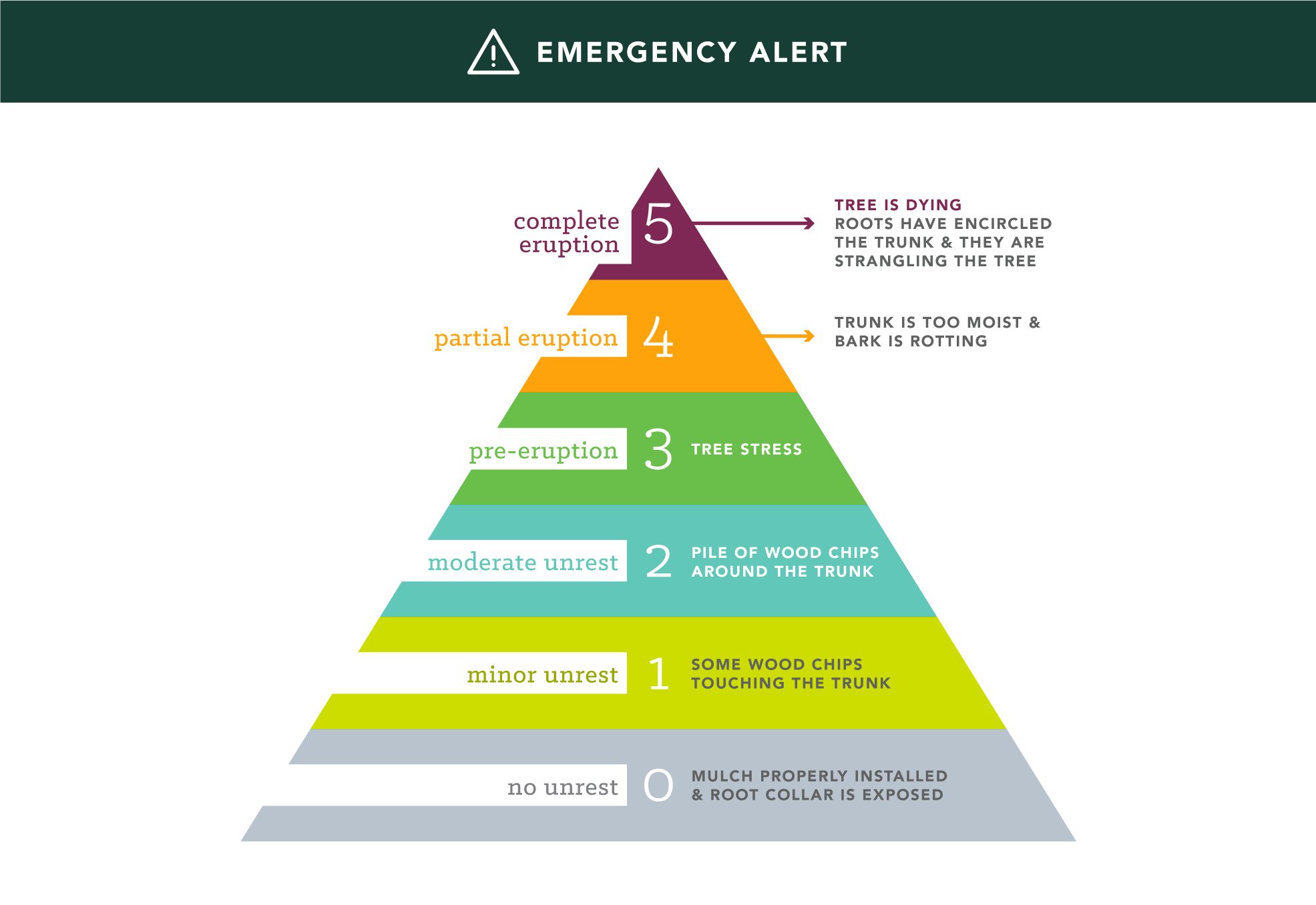 a detailed description of the levels illustrated above:
Level 0 // No Unrest: Properly Installed Mulch
Mulch is installed correctly, and the root collar is exposed. Wood chips are properly placed around the base of the tree without touching the trunk. Ideally, the mulch extends to the dripline and is only 2 to 4 inches deep.
Level 1 // Minor Unrest: Mulch Touching Trunk
Some wood chips are touching the bark. Organic material is starting to cover the root collar. This can happen after significant weather events or landscaping. It is essential to check on this annually.
Level 2 // Moderate Unrest: Moisture Trapped at Base of the Trunk
Wood chips are newly piled around the trunk. There is too much mulch around the tree's base, or the mulch is too high.
Level 3 // Pre-Eruption: Tree Starts to Decline
The tree starts to show signs of stress. As your tree's health gradually declines, it will become more vulnerable to pests and diseases. The leaves might even begin to look wilted or drop early.
Level 4 // Partial Eruption: Bark Starts to Rot
The tree bark is too moist, and it is starting to rot. The bark of a tree is meant to be dry and above ground. However, when enclosed in a mulch volcano, the bark becomes too moist, suffocating the tree because it is oversaturated. It is still possible to save the tree, but you should take immediate action.
Level 5 // Complete Eruption: Tree is Dying
Roots have grown around the trunk and are strangling the tree. As the roots grow inside a mulch volcano, they will encircle the trunk of the tree. This is called girdling. Eventually, the roots around the base of the tree will strangle itself to death.
Are you concerned about mulch volcanoes in your neighborhood? You can typically reverse the damage that has been done, but in more severe cases, a trained professional will need to use specialized tools.
One of our Treecologists can assess the severity of the threat. Send us a message to schedule a free consultation.