Sapling Stories: Bald Cypress
Some of the oldest trees in the world live right in our backyard. You just have to go on an adventure to find them.
An Adventure in Three Sisters Swamp
It was one of those crisp fall mornings with a sunrise that makes you pause. There was a slight chill, but I knew that the sun would wipe that away as it continued to rise. We carried kayaks down the concrete pad and pushed off into the black waters. This river is properly named Black River because of its dark water. As we started paddling around the bends, our guide explained that the leaf tannins are what make the water black. I slowed my paddle, gazing at the branches leaning over the river and their fall colors.
We continued to meander down the river until we could see the ecosystem change. As we entered the swamps, the river banks began disappearing, replaced by more water. Throughout our trip, I marveled at the Bald Cypress trees that flanked many parts of this river. Then, slowly, we started to see the Bald Cypress knees. But this was just the beginning.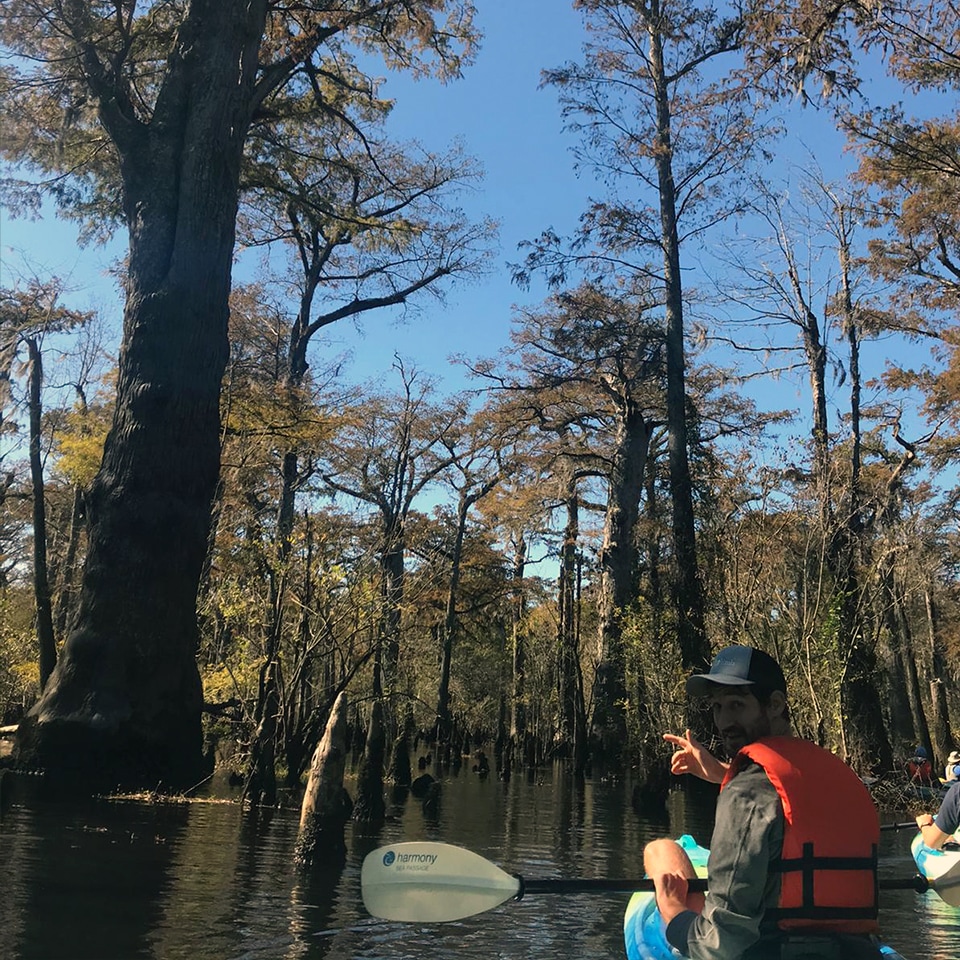 Around another corner, our guide slowed down to gather the group and announced that we would now be entering the Three Sisters Swamp. This swamp, a well-kept secret for hundreds of years, is now being protected by The Nature Conservancy. In 2019, a Bald Cypress tree there was dated to be at least 2,600 years old. That makes this tree the fifth oldest tree in the world. Just incredible! This swamp is truly unique, and the trees are unlike any I have seen.
They might not be the tallest trees, but when you combine their height with their width and the fact that many of them are hollow, they are beyond impressive. Their gnarled branches grow in intricate patterns from the tops of their broad trunks. Their knees are enormous. They are perfect to kayak next to and use as a handhold as you gaze upward. After some time, we paddled back to the Black River, all silent. Lost for words.
This year Project Pando will be giving away a select number of Bald Cypress trees. Because the trees in Three Sisters Swamp are protected, these seeds aren't theirs. However, we would love to collect those seeds from the swamp if it's possible in the future.
In addition to the Bald Cypress trees, we will be giving away a wide variety of trees that Project Pando has been growing over the past year. These trees are all from seeds collected locally by volunteers. We are so excited that they are now available for you to plant in our community.
Get the Project Pando Newsletter!
Stay updated on our progress. We need your help to overcome some of our planet's most pressing health issues.