November 2023 Treecologist Tribune
Leave the Leaves and Plant More Trees
We are having an ideal autumn! It is hard to remember the last time we had such a perfect fall with gorgeous foliage. The norm for the past few years has been hot weather well into November (even beyond Thanksgiving last year), resulting in leaves going from green to an exhausted brown. We had one week of unseasonably warm weather last week, but the leaves had already started to change, so they are keeping their color. I'm loving this season, and I hope you are as well!
What else is happening in the field? Pest activity has decreased with the onset of cool weather. Rainfall has been lower than we would like – just a tad over 2" in the past month, most of which fell on October 13th and 19th. Luckily, many trees are moving into dormancy, so they need less water.
Last month, we received so many wonderful compliments, comments, and questions. Thank you! Please continue sending your feedback, especially your questions. These are excellent fodder for future Treecologist Tribunes. Today, I want to address two that are seasonally relevant.
Since the dormant season is the best time to plant trees, let's start with a question from Shannon. She asks,
"When planting a large tree that has its root ball covered in burlap, black plastic, and wire, what is the best practice when planting the tree? Should the burlap/black plastic and wire be removed?"
Yes, you should always remove the plastic and burlap when planting trees. These will inhibit root development. Some say the burlap will rot, but this assumes the soil conditions in which the tree has been planted are healthy enough to digest the burlap quickly. This is rarely the case. It is best to remove the burlap and plastic. As for the wire basket, you should remove the top half.
When planting, the most important thing to remember is that the tree must have an exposed "root collar." The root collar is where the base of the trunk flares out and becomes roots. If this is not visible above the ground after planting, the tree will decline in health and die prematurely. Most trees from nurseries and garden centers have a buried root collar. Excavate it before you begin. Then, plant the tree so the root collar is positioned slightly above the surrounding grade. Here is a link to a comprehensive planting guide for those who want to learn more.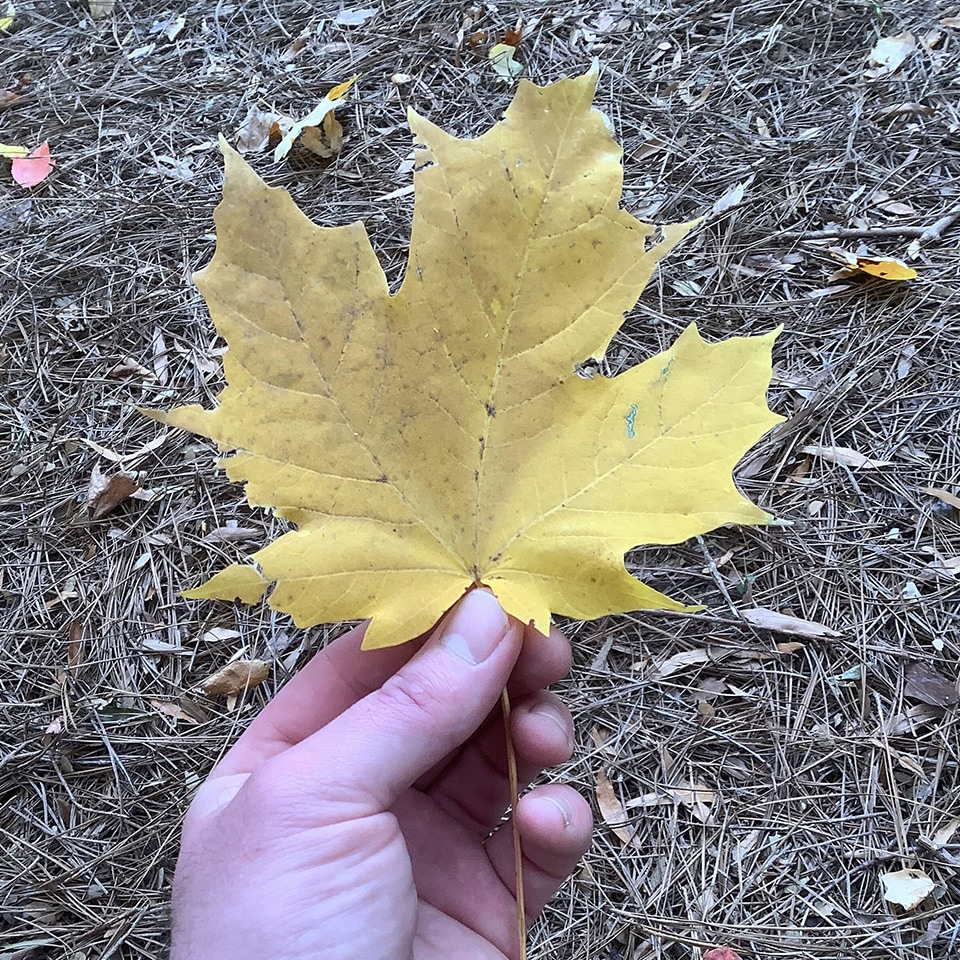 Next up — leaves! It's that time of the year when leaves fall. This means it's time to grab the rake and blower to remove them, correct? Not so fast! Ricardo asks,
"Some folks I know have been telling me to leave me leaves when they fall. Does this actually help with anything?"
The short answer is yes! Imagine we are standing in the middle of an old forest. What do we feel under our feet? Leaves, of course! The forest floor is covered in layers of decaying leaves that give way to dark, loamy soil. Rotting leaves form the foundation of a healthy forest ecosystem. Trees LOVE rotting leaves! An easy way to help build the health of our trees and shrubs is by surrounding them with thick beds of rotting leaves. These leaves are better than any fertilizer that money can buy.
There are other benefits as well. Rotting leaves add what is known as "organic matter" to the soil. Organic matter is the dead remains of anything that was once living. For every 1% of organic matter added to an acre of soil, that soil can absorb an additional 25,000 gallons of water per rain event and sequester 5 tons of carbon! To put these numbers in perspective, the average swimming pool holds 20,000 gallons of water, and the average American emits around 15 tons of carbon annually.
Alan from Cary (a friend of Project Pando and trees, in general) put together an incredible analysis showing that we can increase organic matter by 1% on an acre of land simply by letting the leaves from 10 mature trees rot on that acre. This is wild. Can you think of any easier way to increase the health of trees, increase the water-holding capacity of soil, and sequester 5 tons of carbon from the atmosphere than by leaving the leaves to rot? In exchange for doing less work and spending less money, we can increase our trees' health and help heal Earth. Win-win-win!
Be lazy, save money, help heal Earth – leave your leaves to rot! Bonus points if you use that extra time you saved to help collect seeds for Project Pando! We have space for many more seeds and would love to grow even more native trees to give away to the public for free. Here is a link for more information on collecting seeds to help Project Pando.
Please send us your questions by replying to this email or sending a note to info@leaflimb.com.
Have a fantastic autumn, and I look forward to answering more of your questions next month.