Piedmont Prairies
Meadows and Piedmont Prairies are an alternative to grass and lawns where beauty and life thrive!
A meadow, which we call a Piedmont Prairie, is a community of native flowers and grasses where beauty and life thrive.
In these prairies flowers brightly radiate colors, and grasses sway in the summer breeze. Countless birds, butterflies, and bees feed from these plants and call them home. We would love to install one for you!
Piedmont Prairies are great for trees too!
Piedmont Prairies are hugely beneficial to nearby trees and shrubs. They attract a wide variety of insects, butterflies, bees, pollinators, and birds. These insects and birds feed on the pests that attack your trees. So having a Piedmont Prairie nearby means that your trees are healthier and require fewer pest treatments. Bonus: if you grow food, the story is the same; the critters that live in these prairies will reduce garden pests too!
Over the past century, more than half of all insects, birds, and pollinators have died. Why? These creatures simply do not have enough food and places to live. Urban space, grassy lawns, and mowed fields provide almost nothing they need to survive. In addition, the pesticides, herbicides, and fertilizers we often use to maintain these urban spaces cause further harm.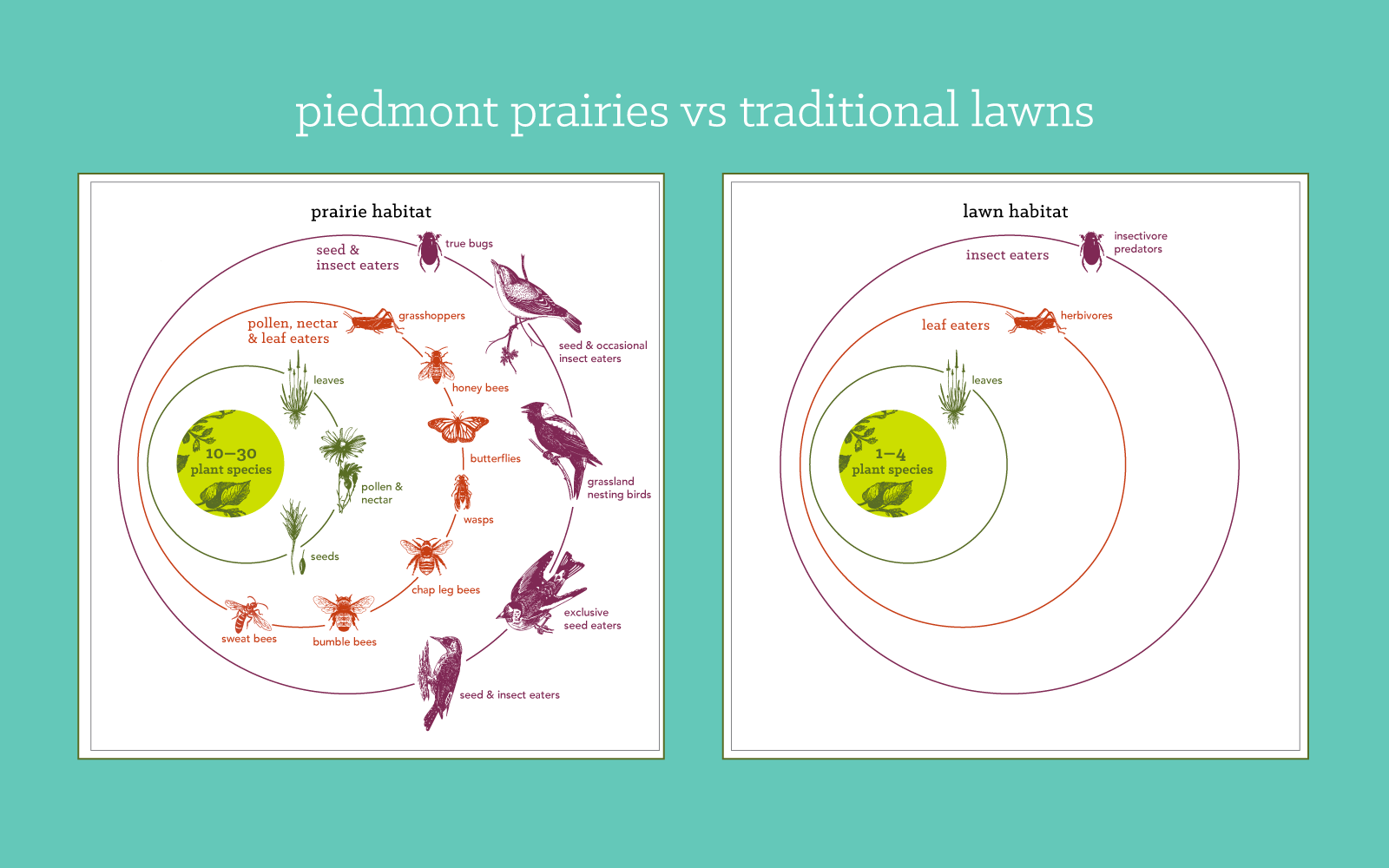 Why install a Piedmont Prairie?
The Piedmont Prairie is a powerful alternative to traditional lawns and grassy areas. These meadows host an incredible abundance of life for thousands of species that then go on to feed other species, creating a robust web of life. That's not all – consider the following:
Piedmont Prairies are 1/5 the cost to install and maintain compared to a traditional lawn.
Once established, you only have to cut Piedmont Prairies 1-2 times yearly. Compared to the 20-30 times a year for a traditional lawn.
Less frequent mowing also means fewer CO2 emissions. The average lawnmower emits 10X more CO2 emissions than a car.
Piedmont Prairies require no fertilizers, pesticides, fungicides, or chemicals.
Once established, they never have to be watered.
The roots of these native plants grow deep into the ground, much further than a traditional lawn. This means they capture more CO2.
With deeper roots, these plants soak up more water during rainstorms. These deep roots have two benefits: they pull water further down to refill our aquifers and create less stormwater runoff.
Oh, and let's not forget – they are absolutely gorgeous!
Flowers for days, birds resting on stems chirruping cheerfully, and the occasional Monarch Butterfly gliding in for a taste of its favorite snack, Butterfly Milkweed. What's not to love?!
Your property is one place where you can make a noteworthy, positive difference for life on Earth.
So ditch the grass, quit the hard work, stop using harsh chemicals, save some money, and contact us for your very own Piedmont Prairie! If you want to learn more about the process or how we began offering this service, please see the articles linked below. If you know you want to install a prairie or you are simply interested in learning more, fill out the short form linked from the button below and we will be in touch soon.
---
Piedmont Prairie Signup
We are so glad you are interested in planting a Piedmont Prairie! Fill out the information below and one of our Treecologists will be in touch soon about the next steps. The cost is approximately $3/per square foot, though it can be considerably less for spaces 10,000 square feet and larger. This includes a consultation, site analysis, installation, and maintenance for the next two years to help the prairie establish.
IMPORTANT: The cut off to our planting season is May 31. After that, any new project will begin in the following growing season.
What a beautiful job! It was a pleasure doing business with Leaf & Limb. We will definitely be calling again. Thank you – Maureen Pollock
Your company's work performance was very good - starting from Joe's visit to writing up a proposal through the crew doing the work. – Willie Harrington, Knightdale, NC President of Lewis Landing Townhome Board...
We are very happy with Leaf & Limb. Things look so much better…and we don't have that over pruned look that so often is... – Best, Pam Riley
I couldn't be more pleased with Leaf and Limb. First Class all around: people, service, and value! I'll never look anywhere else! – Paul Fjelsted
We were very pleased with the work your company did. All the employees I dealt with were very professional and did a terrific job.... – Sincerely, Rebecca Ferguson
Dear Andrea, I just wanted to let you know that the crew was here and they did a great job taking down our tree.... – Many Thanks, Pam Cardoza
They really did a great job and left everything CLEAN!!! One of my favorite words! Have a wonderful weekend! – Bridget Markovsky
Hi, Very pleased with the job. The staff was easy and pleasant to communicate with. They did their job well and left the paths... – Alan Eaton
I just wanted to take a minute to thank you and your crew for a job well done. The yard was left just as... – Bart Arthurs
The guys really did a great job! All of the Leaf and Limb crew , from the office to the site staff were knowledgeable,... – Sue Parkin
I wanted to let you know that I think your company did an excellent job with our trees! Not only did you get a... – Selina Honeycutt
Great service and the trees were trimmed as discussed. – Angela Suggs
My wife and I are very pleased (once again) with the work your service provided. The professionalism, care, safety, timeliness and clean up of... – Scott Davis
I was very happy with the service- The communication leading up to the service combined with the communication that took place throughout the trimming... – Gerard Bellino
Hi Andrea, They left a little while ago and we were VERY impressed with our experience of Leaf and Limb. They were professional, careful... – Ann Burts
Thanks for your work! you all did a great job. Very pleased. – Julie Ventaloro
Andrew, Juan and crew did an awesome job on Friday. Watching Andrew's aerial performance was better than Cirque du Soleil! Watching the coordination between... – Tony Burden
Thanks to the great Leaf & Limb crew and your continued excellent service. – Lorely & John Temple
The guys were great yesterday! They were very nice and professional. If anyone asks, I have tree people and will recommend Leaf & Limb!... – Kevin Wright
Your guys were very courteous and polite. Also, they did an amazing job cleaning up. If the trees weren't gone I wouldn't know anything... – Will Bucher
Many thanks. Once again, I stand amazed at the talent and professionalism of your crew. – Kris Koechling
The process was very professional and well done from start to finish. It was nice working with Andrea and the crew that did our... – Nate Weavil
Your guys were great! They assessed what needed to be done and got it done very quickly and efficiently. I look forward to working... – Phil Stroud
I want to thank you for the outstanding bush and tree trimming your dutifully staff provided to my home. I will most certainly recommend... – Respectfully, Paul Klikas
Your guys were amazing! I mean, what a well orchestrated team you all have! They were so quick and just in & out like... – Kady Wiilcox
Leaf and Limb did a great job at a good price, on time, quick, careful and cleaned up after themselves... Happy Camper! BTW.... What... – Mike Hanes
Hi, Like always your company did a great job. We will definitely recommend your services. – Roy Saba
Thank you so much for your excellent service. Wonderful service :) We will contact you for future assistance with our trees. We are mailing... – Kathy Skov
Thank you very much for the professional and efficient tree-trimming service. I'm mailing my payment for service rendered this week. I appreciate that the... – Kathie Austin
I thought the service was very good. They did an excellent job following the work order, meeting my needs, and cleaning up after they... – Michael Pearlmutter
Andrea, I think in order for companies to thrive, it important to know when things are working well. Your team just left here after... – Sincerely, Denise Birtles
I have very positive feedback about your company and have already referred you to a neighbor who is meeting with you in a few... – Darlene & Tom Sekel
Service was great and professional. Leaf and Limb was on time for estimate and for the work appointments. They were easy to work with... – Regards, Paul Bartley
I thought the service was amazing, they did far more work then what I asked for. They made the area look 100% cleaner then... – Quenten Griffith
Hello, We were very happy with Leaf & Limb's work. We thought you guys were professional, courteous, and accommodating - both on the phone... – All the best, Marie-Louise Bennett
Thank you so much. Excellent job! The work was done sooner than estimated and the back looks fantastic. – Kelly Aguilera
Thanks a lot! Now I don't have to worry every time there is a strong wind or rain storm. – Best Wishes, Annette Green
The service was great… it was just what I expected and turned out just as I wanted it to. The crew was friendly, organized,... – Debra Marion
Thank you so much for you hard work. I will definitely recommend your services and would love to have you out again to finish... – Thanks again, Mallory Trogdon
Hi Colin, Everything went great and the trees came out awesome. Your crew was a pleasure to work with. I especially like that through... – Howie Gotshalk
Colin and 'The Gang' — I posted a review on Google. Thank you so much for such wonderful service. Ya'll are thorough, quick, and... – Best, Maria File
Thank you for another job very well done! We really appreciate your crew's timeliness and professionalism while they are onsite. I also really appreciate... – Jessica Stevens
Hey, Just wanted to let you know how pleased I was with the crew. I was amazed at how quick they did the job... – Thank you, Mary Andrews
Thank you for giving me 3 logs to take to the Discovery Room at the N.C. Museum of Natural Sciences. The children love to... – Ann Noland
Colin, Your employees were great! They worked hard, were professional, and did exactly what they were asked to do. I really liked Cedric and... – Leah Campbell
Thanks so much for the great work! Much, MUCH appreciated! – Mike McPherson, Knightdale NC
Hello. The yard looks great so thank you for such an efficient and professional job. – Lisa Volaric
Thanks for quick service. Good job. – Ken Stephens
My comments would be nothing but GREAT…thought your company did really good work – fast, efficient, clean – and at a very competitive price!... – Mac McMurray
Thanks Colin. It is always a pleasure doing business with you guys. You are true professionals, which is very hard to find these days.... – Chris Bria
Andrea, I just wanted to thank you for the good work done by the work team today. They were on time, and cleaned up... – Susie Holmes
Colin - Thank you for doing such an excellent job for me! All your boys were so thorough and helpful and such excellent manners.... – Dolly Smith
Hello Colin, I just left a message at the office to say how thrilled I am with the pruning. Thank you very much for... – Sheila Carter
I am very pleased with your service. Each of the men were very polite and respectful. They also were very responsive to my requests.... – Thanks, Rick Kirkpatrick
I am very happy with the work that was done-the guys were very efficient and professional and my yard looked better when they were... – Janet Dow
Great service! You did such a great job pruning the trees and cleaning up that I did not realize you had been here when... – Julie Kirch
Thanks for the great work! Look forward to hiring you guys again, & I'll definitely refer you to anyone looking for tree work! Happy... – Lura Gee
I can say without hesitation that I was thrilled with the service. There was not a single thing that I would improve and I... – John Behringer
Colin Your crew did a great job, thanks! – Frank Devita
Thank you, the service was great and was quick. Thanks for the great response time and keeping everything in touch. – Brett Michel
Hi Colin: The guys did a fantastic job. They were extremely polite and professional and left no mess. Thanks so much! – Shelley Saunooke
Hi Basil, Your crew just left my home and I am writing to say how pleased I am with the work the did. Juan... – Again thanks, Susan Rotman
We were pleased once again w/ your company. We'll use you guys again. Always professional!! – Betsy Herman
Wow!! What a nice guy that did the work and I will highly recommend your services to all my friends!! You are awesome!!! – Jeanette Zimmers
Lila, Our experience with your company was excellent. Colin answered all of our questions when he came out to do our estimate. We were... – Duke Bevard
Back in the early part of the summer, your guys did work me and I was pleased. So pleased that I told my next... – Peyton Collier-Kerr
Colin- Your crew was on time, very efficient and pleasant to work with. They were especially patient with me as I mulled over whether... – Dan Ahlport
Colin, I made the right choice. Your folks did a great job with the tree cutting. It was a big deal for me. Everyone... – Lowell Bonnett
Hi, Lila: We were thrilled with the job the team did. They were respectful, efficient, and thorough. We appreciated their knowledge and suggestions —... – Rob Mulligan
The work was excellent. Your crew was highly skilled, professional, prompt and everything completely cleaned up when they left. – Cal Brostrom
I am very pleased with the work that was done. Your guys were well organized, professionals that did exactly what I requested and managed... – Melissa Hayden, Carrboro NC
My husband had a great time watching how these guys worked. They were awesome. I never expected the clean-up they did, even blew stuff... – Ann Black
Thank you for a great job! We appreciate the efficiency and the work you did. Mostly we appreciate that there were no added costs... – Veshana Ramiah
Hello, The overall experience with Leaf & Limb was excellent. We appreciated the communication connection during the process from estimate to completion. The staff... – Don Barbour
Your service was great! The team arrived on time and finished quickly and cleaned up. I will be coming back for service, and I... – Lisa Carter
Thank you so much. That branch was a real problem and I really appreciate you coming out so quickly. The guys told me it... – Scott Wilkinson
Hi Basil, The crew did a GREAT job with the trees yesterday. It was a real pleasure to come home and see those trees... – Thanks, Paul Hespelt
Joe, I wanted to let you know how appreciative I was that you were able to make this hand pruning at Central Park happen... – Todd Pippin
Andrew and the rest of the crew did a wonderful job!!! The trees look great, they did a superior job of shaping and balancing... – Rosemary Miano
Dear Colin, The crew came out as scheduled and performed all the assigned jobs and a few added requests as well and did it... – Teri Bowerman
From Angie's list, I contacted four tree services to quote the work. Leaf and Limb was very prompt in returning my call (one day)... – Gary Phillips
I wanted to let you know that I was 100% satisfied with your company. The young man that did the work was fast, safe,... – Mary Jo & Ramiro Aguirre
Colin: We are always amazed at how efficient and professional your guys are. Congratulations! Thanks for your work. We appreciate all you do for... – Barbara Page
Your team did an outstanding job. They did exactly what I wanted and I was amazed by the thoroughness of cleanup after the cutting... – David Montefiori, Hillsborough NC
Thanks for the lovely tree work! Everything looks great! – Linda & Skip Paardecamp
Service was outstanding!!! You guys are the best. Total job took approx. 2 hrs. Everyone was very professional. Would definitely recommend you to friends... – Quinton Williams
A+ customer service! Your team was very courteous and professional and obviously know what they're doing. They took the large oak down without damaging... – Denny & Cathy Miller
Your men that came to my house were both courteous and professional. They worked very hard from the moment they got here until the... – Chris & Michelle Hayes
Thank you for getting to my tree today. Your guys were very prompt, super fast, and cleaned up after themselves. I am impressed! Hopefully,... – Pam Adams
Dear Colin: I was very happy with the experience I had with your company, from the initial contact to the completion of the work.... – Mark Rampetsreiter
We are very happy with the service, and attitude of all your people. They were professional, polite and certainly qualified. I thank you for... – Vroukje Van Der Sterre
Colin- Jill and I were very impressed with your company and your staff. The time and dedication to our request was well throught out... – David & Jill Novotny
Hi Colin, thank you for your excellent work. I couldn't be happier. Being a first time home owner I really appreciate how you responded... – Sydney O'Hare
You were great! Very thorough and the yard looks wonderful. We will definitely recommend you! Excellent service, excellent job. Thanks again! – Jeff & Pamela Moran
Colin, as in our past dealings, your people did a super job. They arrived on time, completed the job in a professional, timely manner... – Bill Dupree
Thank you for doing a wonderful job! Everything went well from the scheduling of the estimate to the last stump being ground up yesterday.... – Yvonne Restani
Colin, Thank you for the work that was done. The guys did a great job. We will look forward to working with you again... – Martha Millichip
Job well done! Friendly and professional crew. – The Fields
Dear Colin, I just wanted to say 'thank you' for a job well done regarding our tree service. My wife and I were very... – John McCully
Hey there, I had a great experience with your company; And the price was exactly, spot-on what I was expecting to pay. Great job... – Steve Conley
Hi Colin, Good morning, I am very pleased with your work and would recommend you to anyone. Your guys did an excellent job. – Connie Thomas
Hi Colin, I got to tell you, I am very impressed with your company. Starting from your very classy website, to the visit to... – Jo-Ann Hodges
Leaf & Limb Tree Service, Thank you very much for your prompt service. We are happy to have worked with you again. – Pat & Bob Lukaszewski
Everything looks great, thank you very much. I'd recommend your services to anyone. – Marc Scagnelli
Our neighborhood has 155 Townhomes and 155 single-family homes. I have found Colin Camu and his crews to be very responsible in cutting our... – Sandra Biggers, Grounds Chair, Pirates Cove Homeowners Assoc.
Expert service beyond my expectations. This is my first experience with Leaf & Limb Tree Service and I will definately keep their information! Rapid... – Bob King
Thanks to Cedric's crew! You guys rock - Quality work - Done by pros - Not a speck of mess – Andrew & Cole Bagwell
Hey Colin, Your guys just left, and I want to say they did an excellent job! Very quick, efficient, and did exactly what I... – Joe Stellrecht
I have used Leaf & Limb Tree Service for several years and have been very satisfied with the level of service that I receive... – David Robbins, President, Grandchester Meadows Inc.
Hello, I want to thank your crew for an OUTSTANDING JOB they did for me last week! I had no idea they would come... – James McNeely
Hi Basil, I wanted to let you know that James came out this morning and he did a fantastic job. I truly appreciated his... – Josh Brown
We couldn't be happier with y'all. What a fabulous job! I'll definitely write some rave reviews. – Ned Brooks
Your workers are very professional and well-spoken. I also appreciate your ability to provide accurate timing for the job. I will use your services... – Kathy Briggs
Your team did a wonderful job. It is nice to know there are still reputable and professional service companies out there. We appreciate Leaf... – Jeff & Debra Miller
I got a chance to brag to my co-workers this morning about your company. This morning you had a crew at 4200 Wake Forest... – Regina Earp, Customer Since 1999
Dear Lindsey and Andrea – Thx so much! Your workmen were consistently professional, courteous, and a pleasure to work with! Thx again for all... – Maya McNeilly
Thank you for your quote and follow up. I was very pleased with Chris and your service so far has been excellent!! I'm still... – Marcy Moore
wonderful thanks! service was fantastic! putting a review on angie's list as we speak :) thanks again; we will definitely call you guys again... – Brian Burke
Craig, Your guys did a superb job today. All work was done to specs, looks really good and they left the yard spic-and-span. Very... – Steve Davis
Thanks...and they did a great job today. Neat, efficient, pleasant. – Lisa Sacco
Your service is absolutely wonderful ! The first group that came was extremely efficient, Courteous, and went above and beyond what I had expected!... – Linda Kropp
We were extremely happy with the service from Leaf & Limb. We were very impressed with everyone's attitude and commitment to service. We would... – Hank & Peg Harris
I was extremely happy with the work your crew did on my maple tree. It was such a relief to come home that evening... – Craig Young
Hello, Just a commendation to the entire team! I was pleased with the crew that cut the tree. They were fast and cleaned up... – Pamela Njoku-Obi
The crew that took care of our trees was top notch. The foreman especially. It was a pleasure to work with them. Excellent job.... – Deedy Neville
We were very impressed with the service, especially the consideration that was given to the health of the trees that were pruned and aesthetics... – Helena Mitasova
I was very pleased with the service. Efficient and left my property very clean – thanks very much! – Natalie Ledden
Hi, I picked this company based on positive reviews. I found them to be even better than I expected. Very nice company to do... – Bill Barman
Hi! You guys did a fantastic job. Your crew is very talented and friendly. – Justin Oh
I think the crew did a very good job; they were efficient, neat, and minimized damage to the [wet] yard. Joe was a real... – Johnny Loper
Hi Lindsay, Chris was here this morning to look at our yard. I wanted to send this email to compliment Chris for being a... – Guy LiMato
I have been very pleased with my interactions with all members of the Leaf & Limb company that were involved in my "tree project".... – Artrice V. Bader
Mr.Camu, This is Officer Winstead with Apex PD. I just wanted you to know that James was a huge help and a great person... – Officer Winstead
Hi there, I couldn't be happier with the way the job turned out and how it was handled - Joe and the rest of... – Ken Docherty, Chesney Glen HOA President
I wanted to let you know that we were very pleased with the work performed and most impressed with the courteous, knowledgeable and professional... – Jerry Eatman
Hello, Your teams are very professional and efficient. This project went off without a hitch and I wanted to say thanks for that. – Ben Niolet
Your technician did an EXCELLENT JOB today at my house. He was polite, efficient, and cleaned the place up very well. Thank you !... – Len Clark
Hey! Jason, Joe and Oscar are GREAT! Professional in their interactions with me and each other. Cleaned up beautifully! And did an amazing job... – Cat Valand
Good evening Andrea, The crew that was here last week did a great job. They also left the property very clean and tidy after... – Carlos Guzman Jr
Thanks for the great job! My dad was pleased. We will call on you again. – Wayne Raynor
Colin, thanks for the great service. The trees looked perfect. – David Tracey
We have been working with Leaf & Limb Tree Service since 2004. They are a fair and honest company and always do a great... – Cynthia Bedsaul ,  CrewCuts Landscape Management, Inc.
Dear Colin, I would like to take this time to express my thanks to you and your team for the professional service Leaf &... – Jay Manganaro,  Operation Manager ValleyCrest Companies, Inc
Leaf & Limb has been doing tree work for me this summer and has always given speedy response time as well as A+ customer... – Barrett Hines
I have had the opportunity to hire Colin for tree work for the past year and half. During the time I have used Leaf... – Faith Bahri
Thanks! The service was fantastic! I will be mailing a check as soon as the rest of the logs are picked up from my... – Thanks, John Fitch
We have used Leaf & Limb Tree service for the past eight years and we are so pleased with the service and price that... – Tom & Beth Bronson
I want to thank you for your response to my mother's inquiry about her cherry tree (Jennie Nolette). You volunteered to look at pictures... – Happy Daughter, Creedmoor NC
This is the second time I used Leaf & Limb and it certainly won't be the last. Each time from the front office to... – Jack Duffey
Andrea & Chris, I wanted to thank you both for getting me on the schedule quickly & getting the tree trimming completed timely &... – Pat Giroux
Thank you!!! So very much. You made this the best Mother's Day gift I could have ever given [planted trees and shrubs for mother].... – Lisa Chaconas
Kudos to Joe, Chris and all of the staff at Leaf and Limb. If you need a tree service, these are the folks to... – Stephen Dunn
I was very satisfied with your company's service. The work was done exactly the way we wanted and in a timely manner. I will... – Drew Walsh
Overall, we were very pleased with the work and professionalism of the workers. We will definitely recommend Leaf & Limb to anyone who ask... – Mary Horn
Thank you! We are very pleased with the work that was done and the professionalism of your team. – Megan Holler
The guys were very professional in their work. They came in, trimmed and cleaned up – everything looked really good. Thank you very much!... – Gloria McLaughlin
You were referred to us from the Hohe's who live in our neighborhood. We were pleased with the work and the price. We would... – The Mann's
Thank you. Everyone there has been very friendly and accommodating, and I will definitely recommend your company to other people. – Patty Courtright
The service was great and the technician who did the work was personable and professional. He does a great job representing your company. The... – Jim Laumann
Thanks for a job well done! Great crew! They know what they're doing! – Cecil Register
Thank you for the fast and trustworthy service. Stuart, who inspected our property, was great at explaining his thoughts. We'll definitely return for future... – All the Best, Stuart & Kathryn Shefter
Thank you! All of your guys were wonderful! – Tony Bracci