September 2023 Treecologist Tribune
When rain doesn't help thirsty trees.
What started as a wet spring and early summer has turned into a cycle of hot and humid days punctuated by significant rainfall. Since the beginning of June, there have been approximately six major rain events. On average, each of these storms quickly dumped 1 to 2 inches of water across our region. As we know, most of our suburban and urban (sub/urban) landscape is full of compacted and unhealthy soil, unable to accumulate much water. So, most of this rainfall just washed away. Even though there have been almost 10 inches of rainfall over the past three months, the ground and roots within it can't absorb it. This helps to explain why we continue to see many dead and declining trees and shrubs. It's notable that, that amount of rain is low for this time of year – historical norms would be closer to 15 inches.
As always, the trees living in healthy soil surrounded by a healthy ecosystem will be the healthiest. Those are the ones we see thriving this growing season.
The hot topic right now is Crape Myrtle Bark Scale (CMBS), a new pest that arrived in our area from Asia by way of Texas. We have heard from clients in droves about CMBS attacking Crape Myrtles. If the trunks on your Crape Myrtles have suddenly started looking black and crusty, chances are your tree has CMBS. What should you do? You can read more here, but here is the short version: This pest will not go away. The tree will need treatment forever, so replacing it with a native variety will save you money and provide food and shelter for the birds, bees, and butterflies that need it. But if you choose to treat a Crape Myrtle, use non-toxic options (oils and growth regulators) rather than toxic ones (active ingredients are dinotefuran, imidacloprid, bifenthrin, and other unpronounceable words).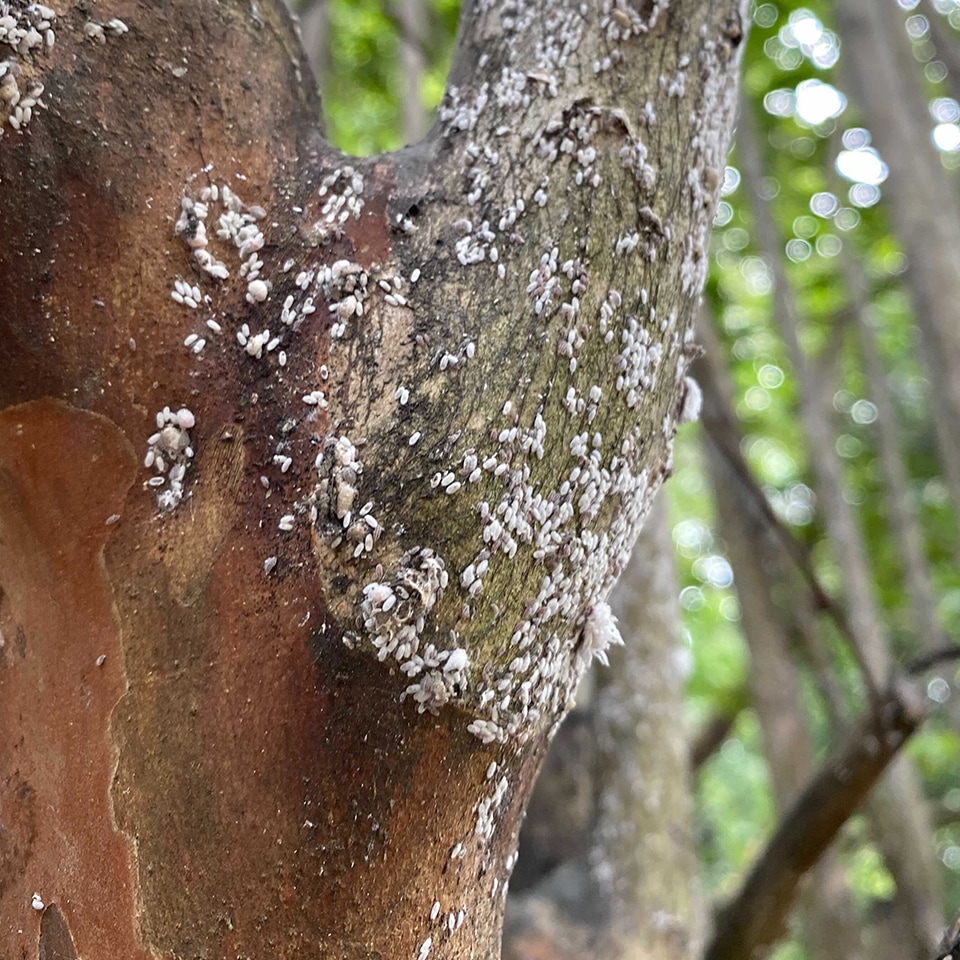 Crape Myrtle Bark Scale on a tree.
Speaking of Native Plants, have you heard about the 2023 Cary Environmental Symposium? Our good friends at The Cary Tree Archive are hosting programs during the symposium, including a lecture by Doug Tallamy on September 15. Leaf & Limb is a primary sponsor for this event and helped organize it. Yours truly will be giving a talk about Project Pando on the evening of September 23. Join us for all or one of these lectures – I highly recommend attending Doug's talk. Attendees will be treated to 90 minutes of fun and fantastic insights!
Last month, Cheng706 asked: "I would love info on the practicalities as a homeowner on how to identify dead branches for trimming (and reduce damage)." This is a great question! And with hurricane season underway, it is very timely. Let me offer a few recommendations on this topic:
If you see dead branches that are large enough to cause damage or harm, those should be removed.
If you see branches stretched out further than others, they may be over-extended and more likely to split in a storm. They should be shortened or redirected using an approach called "structural pruning."
At its best, pruning is a proactive approach that improves the strength and stability of your tree and its branches. This process takes many years of professional help because trees grow slowly. The outcomes are worth the investment.
At the very least, pruning reduces apparent hazards, such as dead branches that could fall and cause harm.
Important note: Some types of pruning are actually harmful to the tree (and a waste of money). These include thinning the canopy just for aesthetics, cutting off the side of a canopy, and topping a tree.
You should also inspect your tree trunks for issues. Look for big hollows, rotten spots (larger than ¼ of the trunk circumference), or mushrooms on the trunk or roots.
Generally speaking, you only need to worry about trees that are big and within range of causing harm to people or property.
I hope that helps! We have lots and lots of articles on our website and videos on our YouTube page on all of these topics.
Have a question about trees, shrubs, native plants, or any topics we cover? Please send them our way for a chance to be featured in an upcoming Treecologist Tribune.
In the meantime, I hope to see you at the Cary Environmental Symposium!
Note About our July Treecologist Tribune
Per a request from one of our readers, I wrote about our transition from gas-powered to electric tools here at Leaf & Limb. Since then, I learned that cobalt – a critical component of most batteries – is being mined inhumanely. A recent book called Cobalt Red: How the Blood of the Congo Powers Our Lives by Siddharth Kara takes a deep dive into the horrors of cobalt mining. Kara risked his life to go undercover in these mines, where he found child labor, enslavement, no protective equipment, and regular fatalities due to mine shafts collapsing. The suffering is heart-wrenching. Worse yet, hugely profitable tech giants like Apple, Samsung, Tesla, and many others look the other way and continue to mislead consumers. This has since given us pause as we consider electric tools moving forward. As with most decisions, this one comes with shades of grey, but we want to share this information so that you can also make the best decision when purchasing new tools.