[Case Study] Before and After: Structural Pruning on an Oak Tree
Structural pruning may look different than what you expect, but it helps ensure your trees' long-term health and safety.
Think back to 3rd grade... your teacher asks you to draw a picture of a tree. What does it look like?
It probably looked somewhat like a lollipop, right? A straight trunk with a round blob of leaves on top and maybe a few well-placed apples?
While this drawing may not be completely accurate, there is one feature that is key: the single, straight trunk. In the forest, trees have competition so they naturally grow straight and strong.
However, in the urban setting, trees have lots of room to grow and lots of access to sunlight without competition from other trees. Because of this, they often have multiple trunks and large, over-extended branches. Over-extended or oversized branches and forked trunks can weaken the strength of a tree. This can cause health issues and can even cause the tree to become a hazard to your property.
This is why structural pruning is so important.
Structure is strength!
It is essential to prune regularly, ideally starting when the tree is young. Trying to correct structural issues in large, established trees can take years, but it can be done. Structural pruning helps trees establish a strong central trunk, balances the crown, and prevents splitting.
How do we decide what to prune? We have three main goals when we are pruning. We want to:
Establish a strong, singular trunk
Reduce over-extended or over-sized branches
Ensure there is proper branch spacing
Before
In the before photo of this Red Oak, you can see that there are multiple trunks towards the top of the canopy. The branches are also crowded, and several are becoming over-extended.
After
To ensure that there is a single, strong trunk, we removed two competing leaders. As a result, you can see there is now some open space at the top of the canopy. We also reduced some of the competing and over-extended limbs.
Let's see the before and after side-by-side: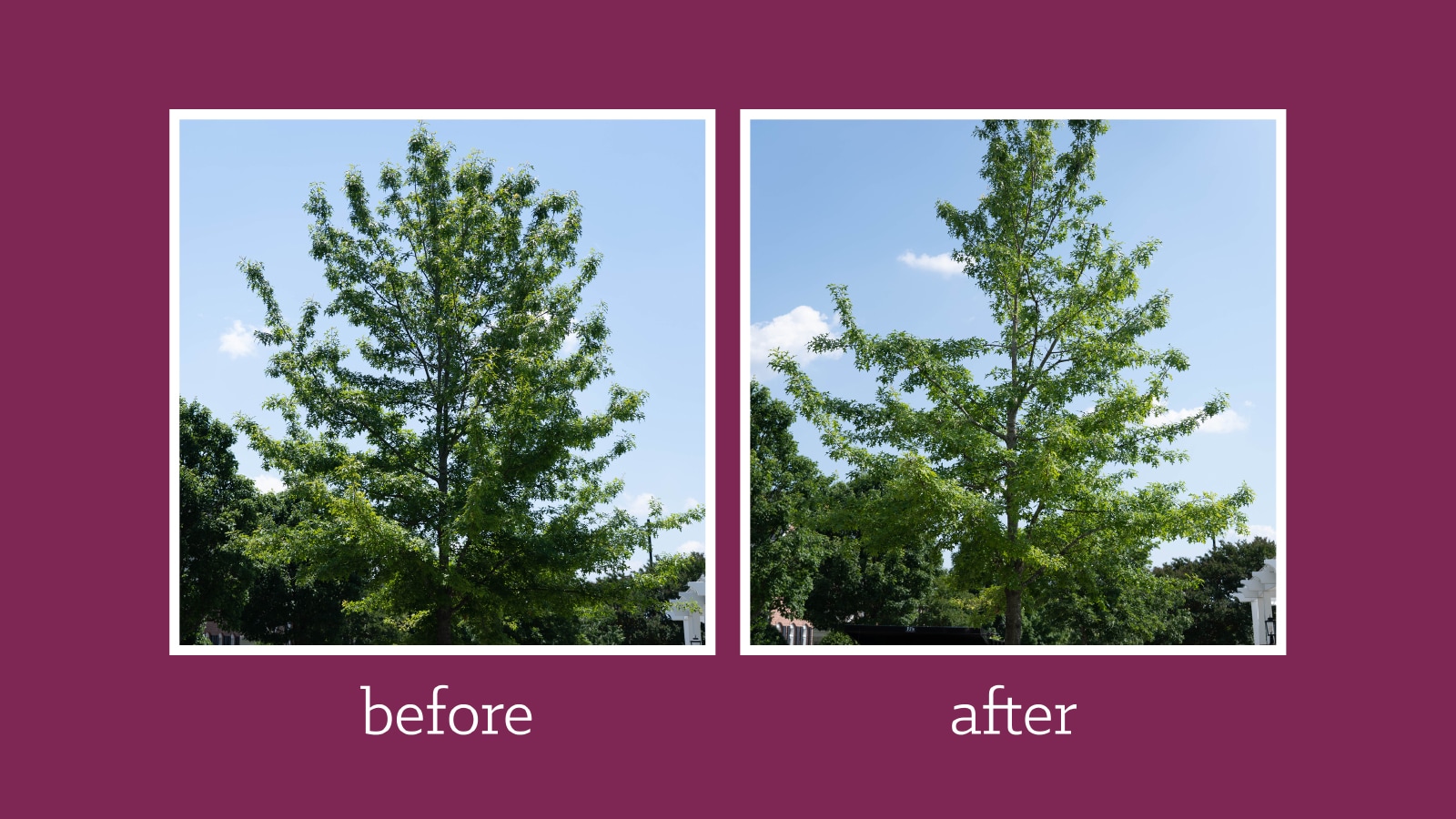 A tree that has been structurally pruned correctly might not look like you would expect, or it may even look odd. However, as the tree recovers and grows, it will have greater strength and a lower likelihood of splitting or breaking. This helps ensure that your tree will live a longer and happier life.
Have questions about structural pruning? Want to share a pruning success story? We would love to hear all about them! Send us a note.